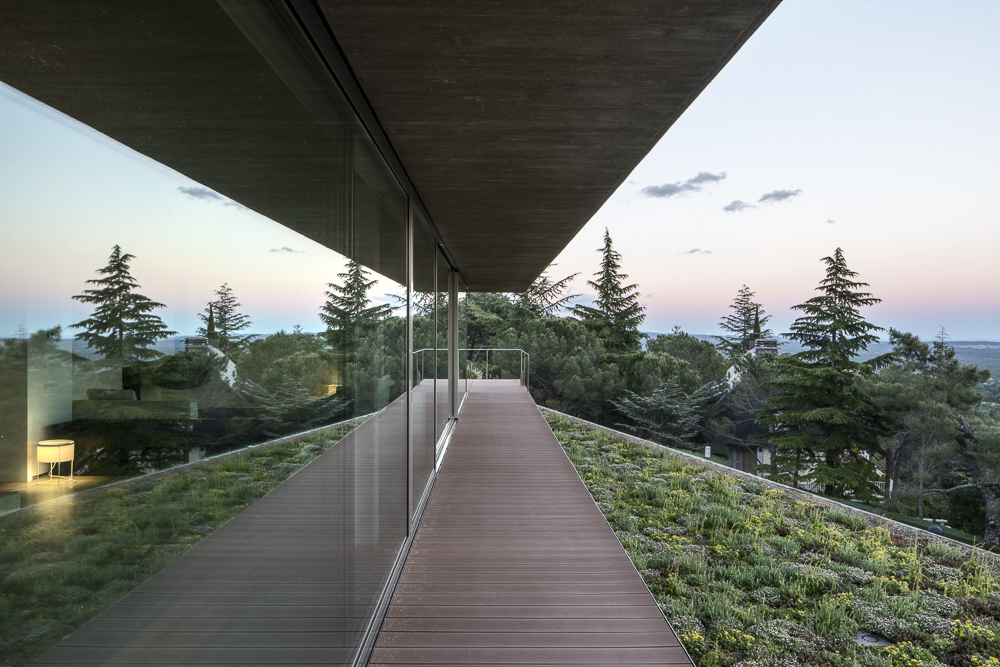 In a clearing in the pine forest of the southern slope of Mount Abantos of San Lorenzo de El Escorial is situated the Oak house which we project for Perea family.
The place is a privileged vantage point with unique views to the south, visually dominating the plain that extends from the Sierra de Guadarrama to the city of Madrid, which is framed the horizon signed by the high towers of new construction.
Therefore the Oak house is conceived as a large gazebo, open and clear.
The Oak House is organized into two levels: the upper with public areas is very permeable, like a floating pavilion on the landscape; and the lower, with the bedrooms, is embedded in the rock of the place opening through porches and windows to the south.
The system that relates and connects the two levels of the house is a concrete slab that folds and shapes the overall envelope. As if it were a floor, deck plans are landscaped, so that from the top of the slope the house is perceived as natural soil, while since its interior is open and bright.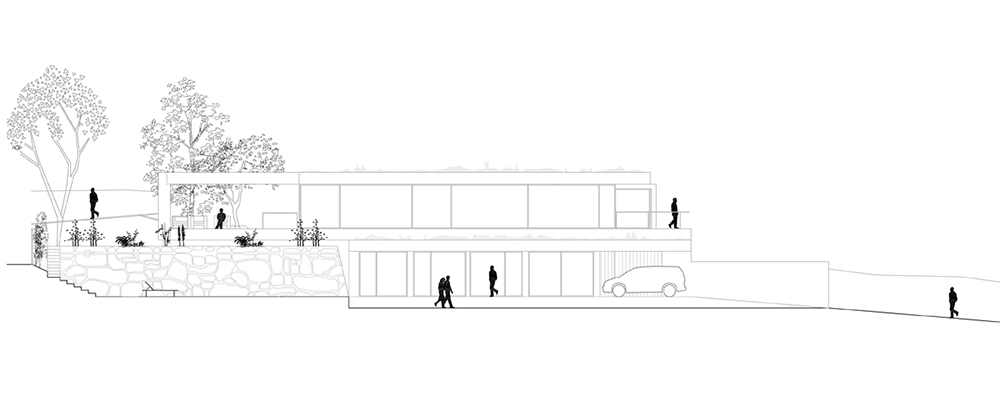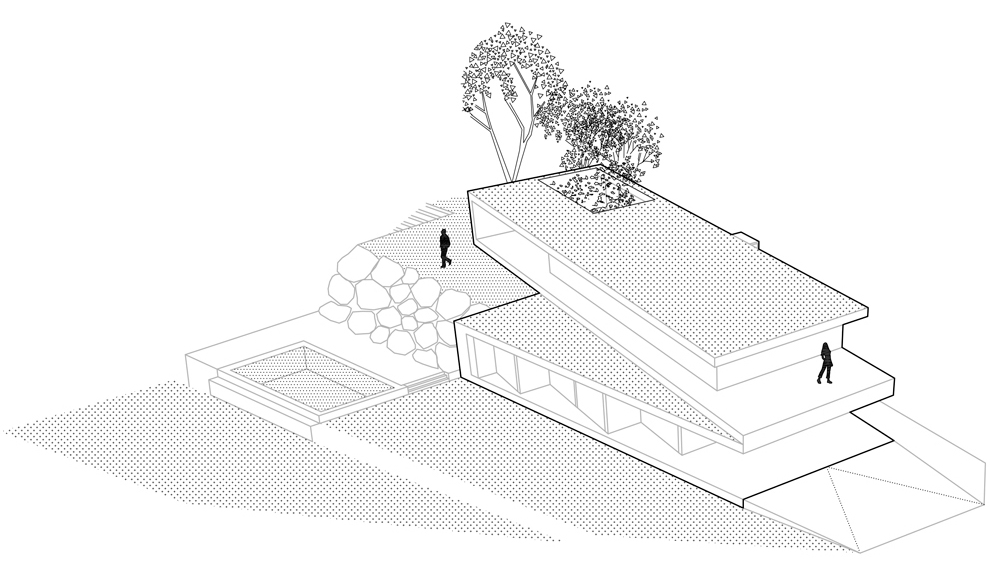 Photo report:
AVISO DE DERECHOS DE USO Y EXPLOTACION (copyright): Jesús Granada retiene los derechos de uso y explotación de todas las imágenes mostradas en esta web (salvo que se indique lo contrario).Los estudios de arquitectura y autores de los proyectos publicados en esta web nos ceden ocasionalmente para su muestra, planos, dibujos, maquetas y textos relacionados con su obra. Los derechos de propiedad intelectual y uso siguen perteneciendo a su autor. Si es usted editor, fabricante, publicista y está interesado en usar las fotografías para su revista, empresa, producto o campaña de publicidad, necesita adquirir los derechos de uso de la o las imágenes que requiera. Para obtener más información sobre las características y propiedades de las imágenes así como de las condiciones y tarifas de uso, rellene este formulario con el máximo nivel de detalle posible. Esta galería de fotografías está disponible para su visualización libre en esta página web. Cualquier uso fuera de esta url debe ser autorizado. Aquí encontrará una lista de clientes habituales que usan fotografías mostradas en esta web.
COPYRIGHT ACQUISITION:
If you are a publisher, journalist, publicist or manufacturer and are interested in use photos from this project on your magazine, book, article, company or marketing campaign, you need to acquire reproduction copyrights about needed photos.
To obtain conditions and fees for the acquisition of copyrights, fill this form.
Aquí encontrará una lista de clientes que habitualmente usan fotografías mostradas en esta web.